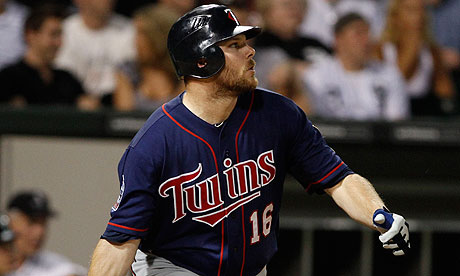 Buster Olney of ESPN.com tweeted earlier today that both Jim Thome and Jason Kubel have been claimed on waivers.  The two teams are unknown at this time but this should not come as a shock to Twins fans.  Almost everyone is placed on waivers at some point in their career.  The Twins can either trade the player or they can pull them back if they do not get a deal that they like.
Speculation has been that the White Sox will win the claim for Thome.  The Indians may also be looking to bring Thome back home as they just put Travis Hafner on the DL but the White Sox have a worse record and would be awarded the claim.  It is tough to see the Twins working out a trade with their division rival for Thome but crazier things have happened.  Still, it is something that would enrage an already mad fan base.  The White Sox are in desperate need of a left handed power bat in large part to the failuer of free agent signing Adam Dunn this year.
Danny Knobler of CBSSports.com also tweeted recently that Francisco Liriano, Kevin Slowey, Glen Perkins and Joe Nathan were placed on waivers as well.  It is unknown if any of them were claimed yet but if they were, I imagine the Twins would be looking for good return on all of them.
There is no reason for Twins fans to be alarmed.  This happens every year, winning season or not.  The Twins are simply putting feelers out there to see if they can shed a little money and get some return for players who are close to free agency.  If they dont get a deal they like, they simply pull the player back and keep them.  The next day should be interesting though as we will know Kubel and Thome's fate.